Digital8
Product status:&nbspActive

manikk Digital8 is an expander module for use together with some other manikk modules. It has pins on the backside for communication with the master module, and 8 jacks on the front. The 8 jacks are digital outputs with the levels 0V or +5V. The outputs are protected by 1k resistors. The Digital8 Expander has the numbers 1 to 8 printed for the 8 jacks on the frontpanel.
The communication protocol for this expander is SPI and multiple modules can be connected in a cascading chain. The module can also be used for DIY projects.
Read the manual for the master module carefully, to see if the master module supports this expander, how many, and what extra features it gives that module.
WARNING! The connector on the back is NOT a power connector. It is a connector with SPI signals. The module can be damaged if connected to something else than the expander-SPI-pins of a master module.
The MOSI-signal has a separate input and cascading output. It is important to follow this routing carefully when connecting multiple modules in a chain. The other signals are the same for in and out.
Pins from top to bottom
| Pin | In | Out | Description |
| --- | --- | --- | --- |
| 1 | +5V | +5V | +5V Power for all digital8s in the chain, taken from the master module |
| 2 | MOSI In | MOSI Out | SPI Data (MOSI) in and out for this expander |
| 3 | SS | SS | SPI Select signal for all digital8s in this chain |
| 4 | SCK | SCK | SPI Clock signal for all digital8s in this chain |
| 5 | GND | GND | Ground |
It is best to mount the digital8 expander to the right of the master module. Connect the connection cables from the master module to the inputs of the first digital8 expander. Then connect the outputs of expander one to the inputs of expander two, and so on…
See here how to connect the digital8 expander to the master module.
See here for tricks and hacks for this module.
Package Contents
1 Module
5 Dupont cables
2 Screws
Plastic zip bag
Price
790 SEK
Technical specifications
Dimensions
Width:&nbsp2&nbspHP
Depth:&nbsp25&nbspmm
Current consumption
+5V:&nbsp2 mA (taken from the master module)
Additional files, images and videos

Left view

Right view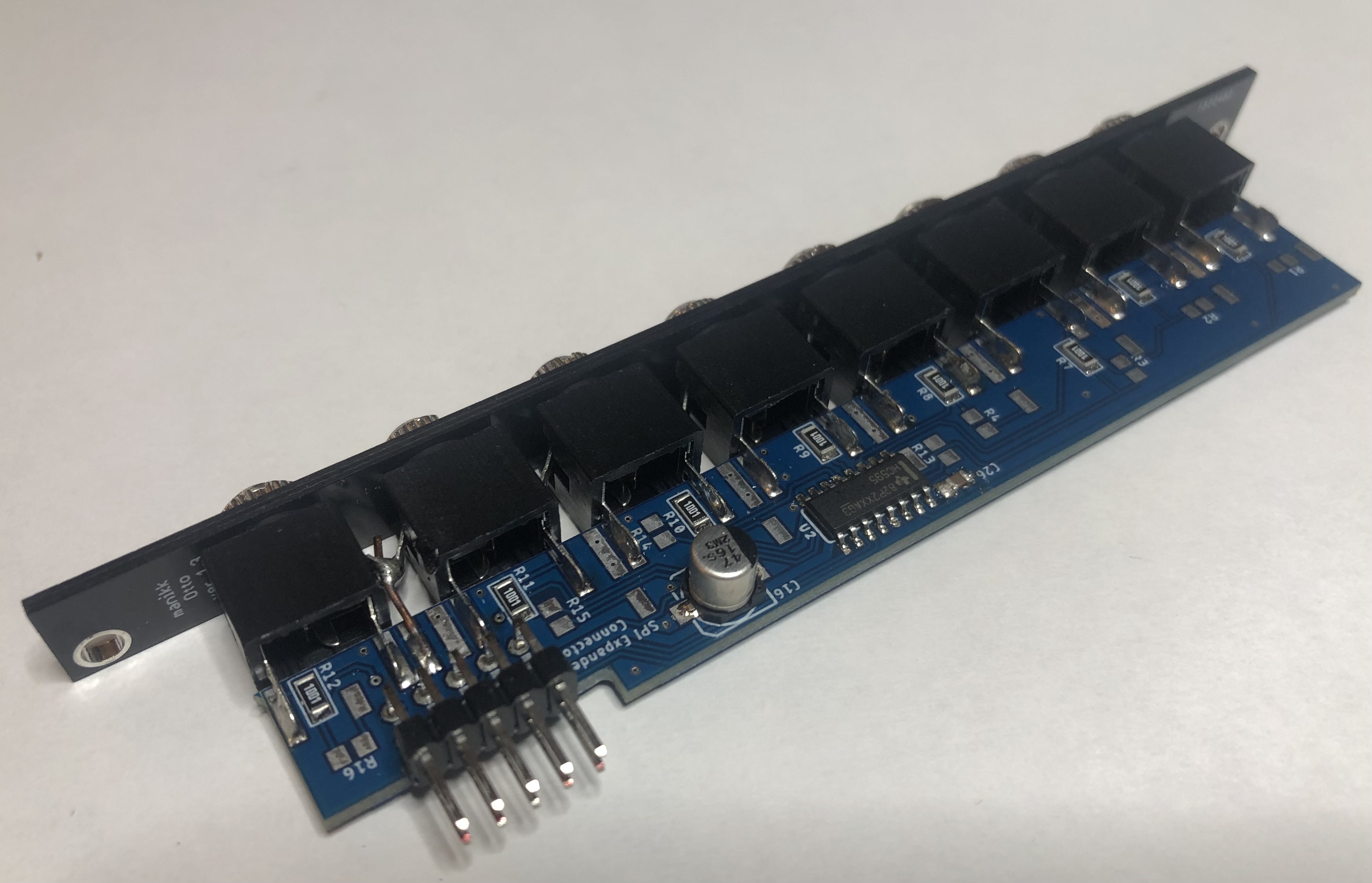 Back view